Grand Opening 2020
With Goldblum (NL), City Dragon (CA/FR), Handle (UK), Skrot Centralen (UK), Container (VS/UK), Anni Nöps (EST/NL) and Live/DJ Eenheid Moebius (NL)
22.02.2020
Grand Opening 2020
With Goldblum (NL), City Dragon (CA/FR), Handle (UK), Skrot Centralen (UK), Container (VS/UK), Anni Nöps (EST/NL) and Live/DJ Eenheid Moebius (NL)
22.02.2020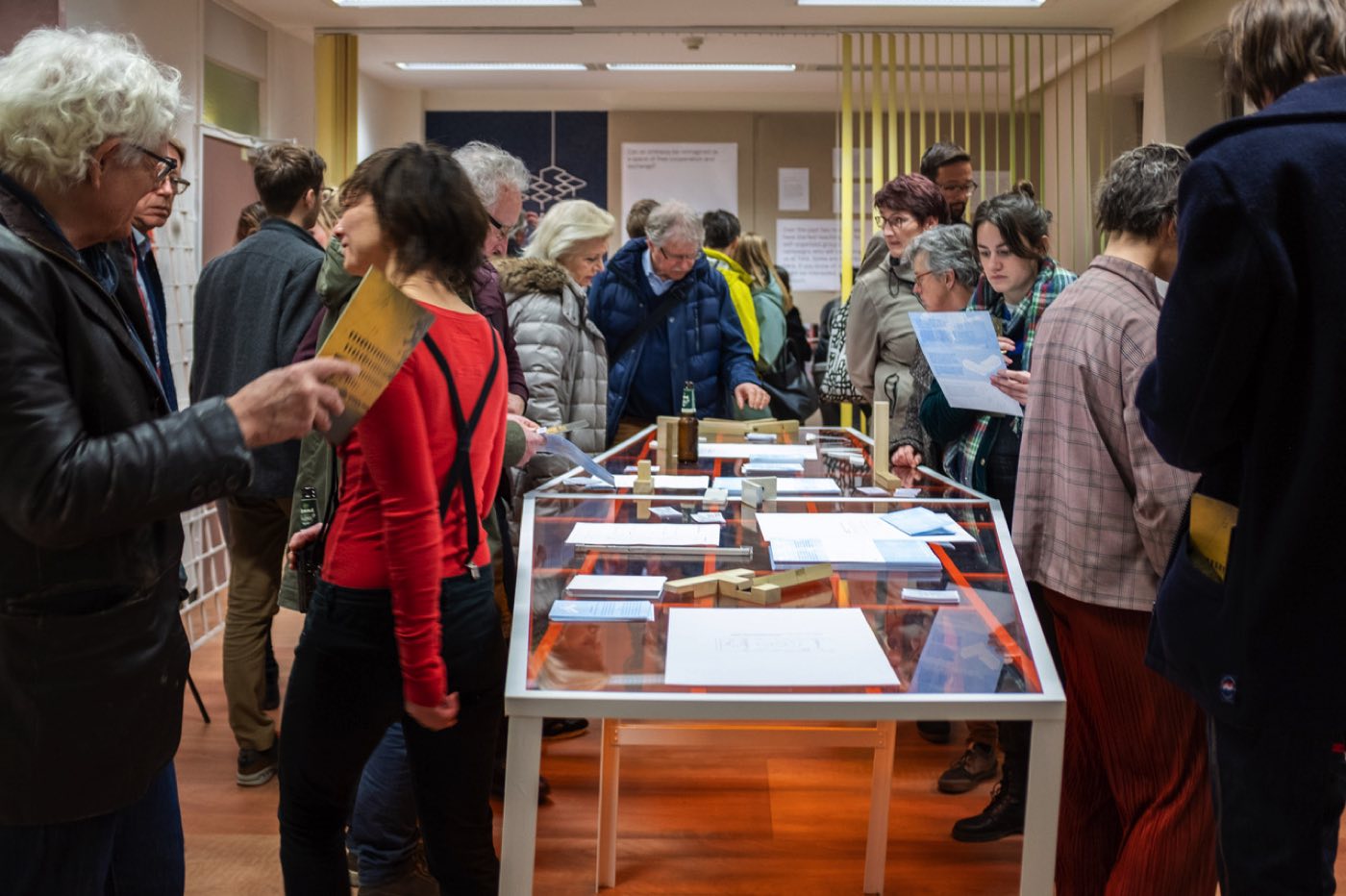 Please join us for our first anniversary celebration at the former American Embassy in The Hague with 4 exhibitions, performances and live music. Presented by West Den Haag and ANNA Vastgoed & Cultuur.

→ 22 februari 2020
→ 19:00 till late
→ gratis entree / free entry
→ maar kom op tijd, want vol = vol

PROGRAM:
19:00 Doors open
19:15 Openingsceremonie

20:00: Exhibitions open
1 MATTIA DENISSE (FR): Theodore's Dream
2 CESARE PIETROIUSTI (IT): A number of things
3 FREE EMOJI: Alphabetum VI
4 RETHINKING THE EMBASSY: Eindhoven University of Technology

20:00: Performance: Pia Louwerens

20:00 — 01:00 H.
Party: Music program curated by Alex Andropoulos

Goldblum (NL)
Goldblum are a duo based in Rotterdam that create collage music and soundscapes using tapes bought in bulk from secondhand shops which they cut, edit and loop to form new rhythms and melodies. They create an undefinable nostalgia by using old music and tape's unique aesthetic to form these newer layered musical pieces. Their live concerts resemble chess games, as the two take turns strategically picking which manipulated tape they will add to the mix next.

City Dragon (CA/FR)
Paris based City Dragon's live performances and recorded material are all Improvised, relying solely on spur of the moment reactions to the music and the audience, and are fueled with nervous energy. By layering live recordings of a-tonal, a-rhythmical toy percussion, saxophone and voice, he forms broken harmonies and rhythms, blending noisy ambiance with painful pop, all done in a very visual performative manner.

Handle (UK)
Handle are a trio from Manchester that prove there is yet more to be said with rock instrumentation. Extremely stripped and direct, both musically and lyrically, They manage to create very energetic, rhythmical groove-punk, with their English punk heritage heavily considered and taken that bit further.

Skrot Centralen (UK)
A very young, very angry duo from London, merging the physicality of live performance (one of the most intense front-men I've ever witnessed) with elaborately layered fast, loud, noisy 'dance' music. With roots in punk and industrial techno, they inspire an untamed rage on the dance floor.

Container (VS/UK)
Container is the stripped-down, beat-oriented electronic project of Ren Schofield, who has a soft spot in his heart for live percussion and drumming. He has worked in the past by combining live drummers with his rawly cut electonic rhythms and melodies, creating a unique and indiscernible blend between the physical and the artificial. His live sets are physically demanding of the audience but truly ecstatic.

Anni Nöps (EST/NL)
Anni Nöps' music is constructed narratively. She builds up the atmosphere necessary to set her world in motion, then progresses through movements of tension and relief shaped by a blend of aerie soundscapes and abrasive percussion. Her DJ sets toy with the threshold between intimidating noise and embracing melody, keeping the listener feeling on edge, yet safe.

Live/DJ Unit Moebius (NL)
Our good friend and trusted musical opinion DJ Duivenvoorden (aka Unit Moebius) will be honoring us with his choice of music for the entire evening. A leading influence on international dance floors for decades, we're flattered he agreed to play a mix of old and new records, on old and new mediums for the old and new to enjoy.