Patrick Bernatchez & Guillaume-Van Roberge
01.09.2012 — 06.10.2012
Patrick Bernatchez & Guillaume-Van Roberge
01.09.2012 — 06.10.2012
Kevin Muhlen (director and curator Casino Luxembourg) in conversation with Patrick Bernatchez (artist). Sunday 7 October 2012, 14:00, FREE entry.

Extra: Closing performance by Patrick Bernatchez and Guillaume-Van Roberge
Limited space, please make a reservation.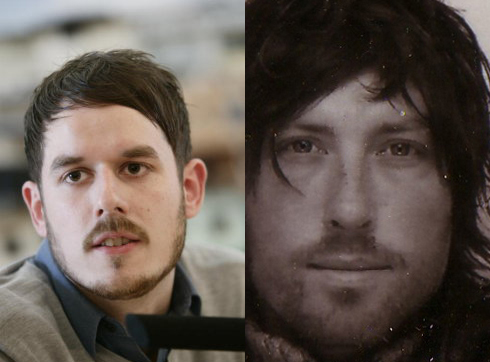 Kevin Muhlen (left) & Patrick Bernatchez (right)
In a conversation of about an hour, Muhlen will ask Bernatchez to explain the project Lost in Time. Subjects that will be discussed include: What is the ratio of the BW (the watch once in 1000 years 1x rotates) to other parts of the exhibition? What is the romance of Science Fiction? And practically speaking, how to realize a project like this, with exhibits and presentations on different continents?

Kevin Muhlen (1977) is the Artistic Director of Casino-Forum d'Art Contemporain Luxembourg. After his studies in art history in Brussels and Strasbourg, Kevin Muhlen integrated the team of Casino Luxembourg in 2004 as curator and project manager. He also curated the Luxembourg pavilion at the 2007 Venice Biennial. In 2009 Kevin Muhlen was appointed artistic director of the Casino Luxembourg – Forum d'art contemporain. Since 2005 Kevin Muhlen is also member and secretary of the international association of curators of contemporary art – IKT asbl.

Patrick Bernatchez (1972) is an multi-disciplinary artist whose work spans the media of painting, drawing, sound, installation, video, and photography. Since 2006 he has been working on a number of large-scale multi-media projects that incorporate industrial architecture as the place settings for explorations of metaphoric metamorphosis, the changing nature of industry and power and reflections on death, decay, and entropy.

Guillaume-Van Roberge (1974) is a musician and composer. He has produced music for various projects, ranging from theater to literature, while working as a bass player in various formations (Stagger, The Urbanauts). His academic career took him to literary studies, creative writing and screenwriting. He writes stories and composed music for contemporary art projects.